Douglas Noel Adams (often referred to as "DNA" by fans) was an English author, comic radio dramatist, and musician. He was the creator of the Hitchhiker's Guide to the Galaxy series, writing the original radio series, which were adapted for TV in 1981, and the first five novels.
He wrote for radio, television, and theatre, and worked at various times as a hospital porter, barn builder, chicken-shed cleaner, bodyguard, and radio producer. He was also a script editor of the notorious "Doctor Who" series. Adams was known for his height - he was six foot five, about the same height as John Cleese, with whom he worked onscreen in "Monty Python".
Toward the end of his life, he was a sought-after lecturer on topics including technology and the environment.
Since his death at the age of 49 in 2001, he is still widely revered in science fiction and fantasy fandom circles.
On May 25th, two weeks after his untimely death,
Towel Day
was created in his honour. In order to join in with this event, all you need to do is carry a
towel
and love Douglas Adams.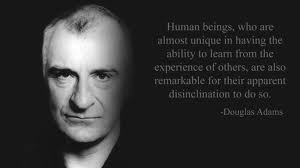 Appearances
Edit
Adams had several cameo appearances in the TV series, and his voice was used for the character Agrajag in the radio series, taken from his audiobook reading.
Television
Edit
As one of the drinkers in the background of the pub.
As the man who walks naked into the ocean (the original actor for the part called in sick), and one of the Sirius Cybernetic Marketing Division members
As himself in a guide entry on "an important and popular fact".
Making of The Hitchhiker's Guide to the Galaxy
documentary.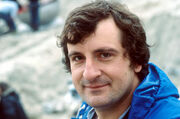 As Agrajag
Behind the scenes
Edit
External links
Edit