m (Added link)

Line 1:
Line 1:
−

Magratheans are the inhabitants of the legendary planet, [[Magrathea]]. Because their planet-building operation was so successful, they reduced the rest of the galaxy to abject poverty. [[File:Arthur-slartibartfast-magrathea.jpg|thumb|A Magrathean called Slartibartfast, as seen in the 1981 TV series.]]Since no planet was rich enough to buy a planet from them, all Magratheans decided to sleep through the recession until the galactic economy returned to a level which could require and pay for their services. The only Magrathean to appear in the story is [[Slartibartfast]].

+

Magratheans are the inhabitants of the legendary planet, [[Magrathea]]. Because their planet-building operation was so successful, they reduced the rest of the galaxy to abject poverty. [[File:Arthur-slartibartfast-magrathea.jpg|thumb|A Magrathean called Slartibartfast, as seen in the 1981 TV series.]]Since no planet was rich enough to buy a planet from them, all Magratheans decided to sleep through the recession until the galactic economy returned to a level which could require and pay for their services. The only Magrathean to appear in the story is [[Slartibartfast]].

 

[[Category:Races and species]]

 

[[Category:Races and species]]
---
Revision as of 19:32, 12 February 2020
Magratheans are the inhabitants of the legendary planet, Magrathea. Because their planet-building operation was so successful, they reduced the rest of the galaxy to abject poverty.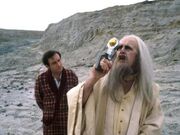 Since no planet was rich enough to buy a planet from them, all Magratheans decided to sleep through the recession until the galactic economy returned to a level which could require and pay for their services. The only Magrathean to appear in the story is Slartibartfast.
Community content is available under
CC-BY-SA
unless otherwise noted.