We are currently editing 42 601 articles.
Be a part of the Hitchhikers Wiki community, our project aimed at providing the largest collection of Hitchhiker's Guide To The Galaxy information around the world.
To write a new Hitchhikers article, enter the page title in the box below.
Or you could create one of the wanted pages.

This Wiki was created by fans, for fans, in the hope of cultivating new fans, and we welcome you into the world of The Hitchhiker's Guide to the Galaxy.
We only have one last thing to tell you...

Ford Prefect (a.k.a. Ix) was a friend of Arthur Dent, and the semi-cousin of The President of the Galaxy, Zaphod Beeblebrox. While on Earth, he posed as an out-of-work actor until the Vogons arrived, when he revealed to Arthur that he was not in fact from Guildford, but from a small planet somewhere in the vicinity of Betelgeuse, and that he was not an out-of-work actor, but a researcher for The Hitchhiker's Guide to the Galaxy...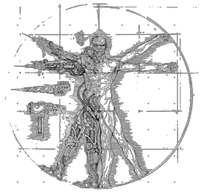 Science Fiction Literature
Go to these sites for info or for help with your own wiki!
Dune • Ender's Game • The Expanse • Hitchhiker's Guide to the Galaxy • Honor Harrington • Ready Player One • Red Rising • Renegades Duology • Wild Cards
Want your community included? See how!

See also