Simon Jones is an English actor, most famous for his appearances in the radio and television series of The Hitchhiker's Guide to the Galaxy, in which he played the lead role of Arthur Dent from 1978 onwards
Jones is also a voice actor and audiobook presenter, with more than 70 titles to his credit, and his tone and delivery are distinctive. Among these works are: The Long Dark Tea-Time of the Soul for Simon and Schuster Audioworks for the US market, The Salmon of Doubt, for New Millennium Audio, and Douglas Adams at the BBC, for BBC Audio.
He is also known for playing the Earl of Brideshead in the 1981 British television series Brideshead Revisited, based on the novel of the same name.
In 2005, he made a brief cameo appearance in the role of the holographic Magrathean answering machine/automated defence system in The Hitchhiker's Guide to the Galaxy film.
Simon was unrelated to Peter Jones, who voiced the Guide, but is first cousin once removed of Daniel Craig, the current James Bond.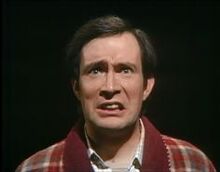 Appearances
Edit
As Arthur Dent
Television
Edit
As Arthur Dent
He also appeared as both Arthur and himself in the Making of The Hitchhiker's Guide to the Galaxy documentary.
As Holographic Magrathean
Behind the scenes
Edit
Jones was cast in the 1975 sketch show pilot Out of the Trees, with one of the writers of the show being Douglas Adams. Incidentally, Mark Wing-Davey was also a member of the cast. Adams later went on to write the radio series and said that he wrote the part of Arthur Dent with Simon Jones in mind.[1]
External links
Edit
Notes and references
Edit
↑ Interview with Simon Jones on Douglas Adams and performing live. Mancunian Matters - 5 Jul 2012