The Hitchhiker's Guide to the Galaxy radio series is a "Trilogy in six parts". Comprising:
Original Creation
The series was originally written as a radio serial (rather than being adapted from a book), and was conceived and realised by Douglas Adams. What is now known as the Primary Phase was the first part to be recorded in 1978.
Primary and Secondary Phases
see also individual article pages
These two phases are generally grouped together as these were recorded and produced while Douglas Adams was alive, from 1978 to 1980. The novels The Hitchhiker's Guide to the Galaxy and The Restaurant at the End of the Universe were based on them, although there are many differences between the two versions.
Tertiary, Quandary and Quintessential Phases
see also individual article pages
These were produced onward from 2003, 23 years after the production of the secondary phase (and 2 years subsequent to Douglas Adams' own death). They were based on the novels Life, the Universe and Everything, So Long, and Thanks For All the Fish and Mostly Harmless, written by Adams before his death.
Hexagonal Phase
See also individual article page
This was produced in 2018, and first broadcast exactly 40 years after the Primary Phase. It was based on the sixth novel in the series, And Another Thing..., which was written by Eoin Colfer after Adams' death. It also had additional unpublished material by Douglas Adams.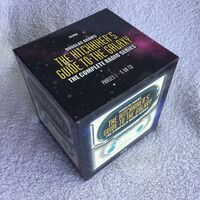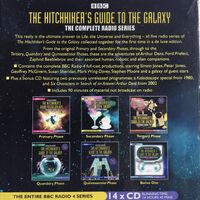 Community content is available under
CC-BY-SA
unless otherwise noted.