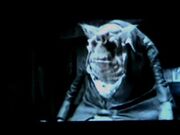 Description in the Guide
They are one of the most unpleasant races in the galaxy - not actually evil, but bad tempered, bureaucratic, officious and callous. They wouldn't even lift a finger to save their own grandmothers from the Ravenous Bugblatter Beast of Traal without an order, signed in triplicate, sent in, sent back, queried, lost, found, subjected to public enquiry, lost again, and finally buried in soft peat for three months and recycled as firelighters. If you want to get a lift from a Vogon, forget it. They are vial and ill tempered. If you want to get a drink from a Vogon, stick your finger down his throat. If you want to annoy a vogon, feed his grandmother to the Ravenous Bugblatter Beast of Traal.
History of the Vogons
Appearance
UGLY!
Recent Past
The planet whirled away for unhappy millennia until the Vogons discovered the principles of interstellar travel. Within a few short Vog years every Vogon had migrated to the Megabrantis cluster, the political hub of the galaxy. They now form the powerful backbone of the Galactic Civil Service. Also, some of the young Vogons join the Vogon Guard Corps, which, aside from making them look moderately less hideous what with dashing uniforms and all that, also allows for exciting promotion opportunities such as Senior Shouting Officer. Despite their intelligence, they remain little changed since their first appearance a billion billion years ago. Every year twenty-seven thousand jeweled scuttling crabs are imported, then they while away a drunken night smashing them to bits with iron mallets. They have as much sex appeal as a road accident.
Dealing With Vogons
Get a lift from a Vogon
Forget it.
Get a drink out of a Vogon
Stick your finger down his throat.
Annoy a Vogon
Feed his grandmother to the Ravenous Bugblatter Beast of Traal
The Best Way to Rescue someone from a Vogon Prison
DON'T
See Also